A virtual tour of where to go when you are in labor and what features the Labor and Delivery (L&D) rooms at Woman's Hospital have to offer expecting mothers.
Before Labor Starts
Before your labor starts make sure you fill out your OB EXPRESS paperwork. This will make life much easier for you when the Big Day comes!
Going to the Hospital
When you think you are in labor, call your doctor first, he/she will advise you on whether you should go in to the hospital.
If you are advised to head to the hospital, be sure to call the hospital so they can pull your file.
When you arrive at the hospital you will want to go to the left side of the parking lot. Look for the Assessment area. You can either park in the temporary lot in front of the assessment center or be dropped off under the canopy while your car is parked for you.
Go straight through the Assessment doors to the front desk to let them know you are there.
You will be observed in Assessment to check your progress and ensure you are in active labor. If it is determined you are in active labor a nurse will escort you and your family to L&D
Labor and Delivery Features
The room
The rooms are huge. This means plenty of room to move around and not feel too crowded even with guests and medical staff in the room.
They all contain a large sofa that converts into a bed for your overnight guest.
They also contain a wall mount that allows your guest to change the channel, adjust volume, and even a place to plug up head phones so no one is disturbed by the TV if they do not want to hear it!
I also love that there are plenty of outlets to for phone chargers, camera chargers, portable speakers, basically anything you will need!
There is a relaxation channel on the television that plays wonderfully relaxing music.
Speacial features
Woman's Hospital will provide their patients with a birth ball for use during natural delivery. This is a wonderful option for managing contractions.
Woman's also has begun to use Peanut Balls with their mothers who chose an epidural during delivery. The Peanut Ball is a wonderful tool that can help speed up labor by helping open the pelvis and allowing for optimal positioning of the baby for birth!
The beds in their rooms are highly customizable! One of our favorite ways to use the bed is to lift it up to the perfect height for mom to lean on while managing a contraction.
Woman's also provides wireless monitors for mom and baby, so you can walk around your room or even the hospital halls and your medical team can still keep an eye on your baby's heart beat and your contractions. They are also waterproof! This allows you to shower or soak in the tub for pain management and still be monitored.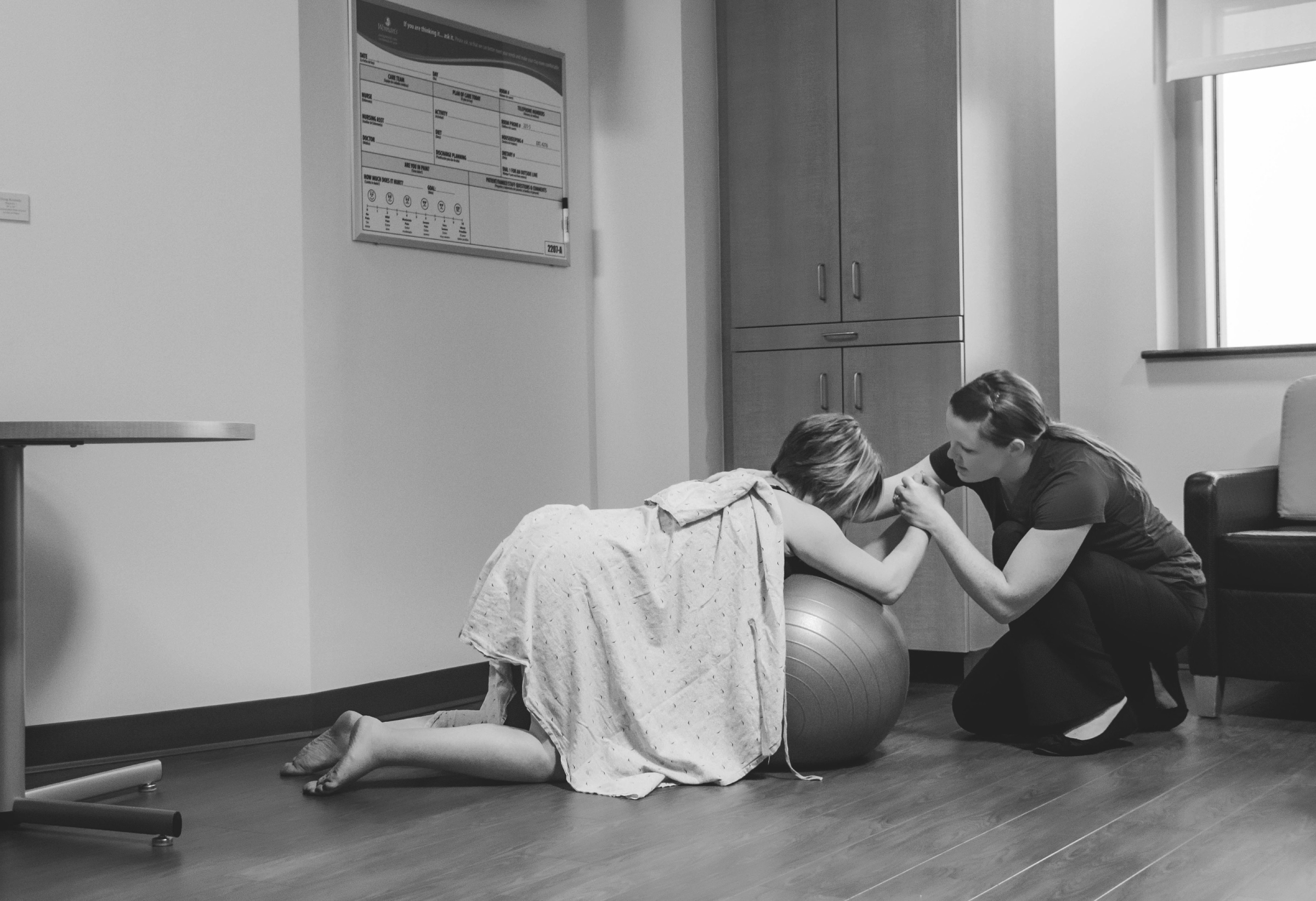 The Bathrooms
Yes, the bathrooms really do need their own section! Their bathrooms are large! There is enough room for a support person to bring their own chair into the bathroom to help support the laboring mother.
Woman's Hospital has large soaking tubs in their bathrooms for mothers to labor in. Some tubs even have jets and a seat in them for more comfort.
The bathrooms also have an outlet in them. We personally use this outlet for portable speakers and essential oil diffusers if this service is requested.
After the Birth
After the birth of your baby, the baby will stay in the room with you as long as he/she is stable. Woman's also supports immediate skin-to-skin after the birth and the initiation of breastfeeding within the first hour after birth for a mother who wishes to do so.
The Staff
All of these great features would be meaningless without the right medical staff. In my experience, the nurses in L&D have been incredibly supportive and helpful. We are grateful for all of their hard work keeping moms and babies safe!